Discover the Engadin's wonderful food
A hotel without a classic restaurant! Even when it comes to food and drinks we focus on individuality: cook for yourself or enjoy a delicious meal in the hotel or eat your way round Pontresina's restaurants – it's your Decision!
That's why you have the possibility to eat each of your meals in a different place: Whether in the privacy of your hotel room or in the social area, together with others. If you want to cook yourself, we'll be happy to tell you where to buy the best local ingredients for your menu. You can also get a refined selection of cooking ingredients in our house.
So there's no such thing as a holiday with a growling stomach. But we do have a new concept that allows for a whole new level of freedom.
Nothing brings people together like good food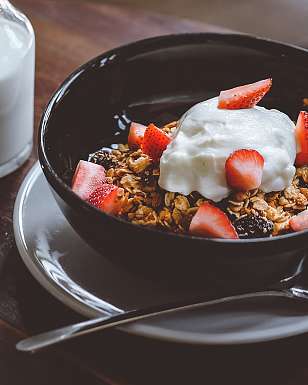 Breakfast like a king
Start the day in your pyjamas or enjoy your first coffee in the social area with a view of the Engadine mountains. We make a meal out of breakfast: regional specialities, hot and cold dishes, hearty meals and lighter bites, bread and rolls from the village bakery and Engadin coffee served by a barista are all part of it. You have the following options:
Enjoy the breakfast buffet in the Social Area
Take your breakfast to your room
Culinary - Your Way
For small and large appetites, you can give free rein to your cravings. We are happy to serve you warm dishes such as Pinsa's, Dumplings, soups or Capuns in our social area or you can help yourself with our Grab & Go fridge and heat up the food in your room. Of course, there are also fine things to feast on cold with matching aperitif drinks. Creative drinks and selected beers and wines ensure convivial moments wherever you like.
If you prefer to cook for yourself or discover the restaurants in Pontresina, we are at your service with the best tips. Our concept gives you a whole new freedom. No matter if you opt for delicious snacks in the social area, restaurant tips or top-quality ready meals that you just need to heat up - everything is possible.