Where individuality meets design
Our hotel combines London design with the old-fashioned charms of an alpine village, a feel-good atmosphere with the spirit of adventure and time for inner reflection with opportunities to socialise. You'll feel at home in no time – with the difference that here you can enjoy all the benefits of being in a hotel, but only when you want to. The things that other hotels include automatically can simply be booked as extras at the Sunstar Hotel Pontresina – if you want them. To make your hotel experience as individual as you are.
Modular rooms
That's why we don't have run-of-the-mill hotel rooms, but rooms that can be adapted to meet the needs of our guests by allowing maximum flexibility: we can make rooms bigger or smaller, connect them together or separate them. They have practical kitchens where you can conjure up a perfect meal. If you prefer, there are takeaway outlets around the corner, and plenty of places to buy treats to bring back with you.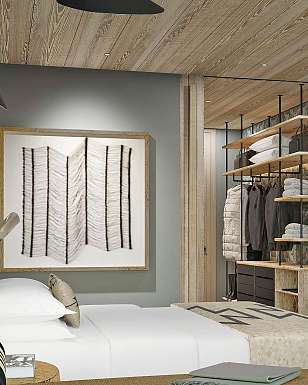 Mountain Style
Double room
This is where two people can retreat for the night and relax in a room that is both beautifully equipped and homely. Modern architecture that soothes the soul and makes your alpine dreams come true in comfort.
ROOM AMENITIES - for 2 people

Box spring bed • Flat-screen TV • Rain shower • Toilet • Minibar • Coffee machine • Comfy corner • Radio • Hairdryer • Safe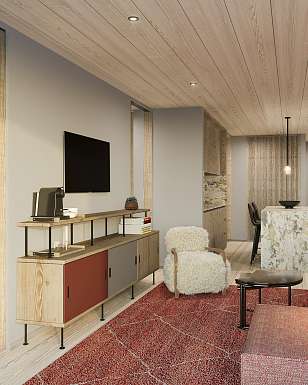 A loft for modern living in cosy comfort. The perfect place to relax, day or night – in style, of course. The kitchenette in your temporary home means you can cook for yourself whenever you feel like it. You decide when you want an intimate night in, and when you want to explore the dining options elsewhere.
ROOM AMENITIES - for up to 4 people

Box spring bed • Kitchenette • Separate living and sleeping areas • Flat-screen TV • Rain shower • Toilet • Minibar • Coffee machine • Comfy corner • Radio • Hairdryer • Safe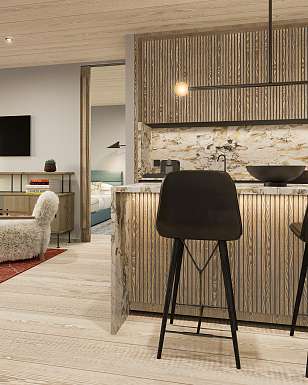 Mountain Family
Family room
Play Tetris and put your family loft together yourself. A loft with a kitchenette and that can be combined with a double room. Are Granny and Grandad or friends coming with you? Then you can be together when you feel sociable, but each have your own room to retreat to. Live together in the way you all want – with style and charm, obviously.
ROOM AMENITIES - for up to 6 people

Combination of Mountain Style & Mountain Living
2 box spring beds • Kitchenette • Flat-screen TV • Rain shower • Toilet • Minibar • Coffee machine • Comfy corner • Radio • Hairdryer • Safe